Junkers Hydronext 2400S WD11 AME Natural Gas / Butane Heater
NoX Junkers Hydronext 2400 S WD11 AME Low Watertight Natural Gas / Butane Heater

NoX Junkers Hydronext 2400S WD11 AME watertight butane gas heater with gas evacuation kit, 11-liter automatic without permanent pilot flame, electronic ionization ignition. With overheating protection.
Low NOx emissions
Energy efficiency class A
Complies with ErP regulations
No need batteries
Smoke outlet kit included
The Junkers Hydronext 2400S WD11 AME is a low NoX watertight butane gas heater with a capacity of 11 liters, thermostatic, with automatic ignition by ionization 220-240V, without pilot flame, easy to install and use, with a digital display designed to gain comfort in daily domestic use and performance, safety, efficiency and greater care for the environment as it has a sealed combustion chamber with a low NoX burner.
It includes the gas evacuation kit necessary for its installation. Said smoke outlet is made up of a 90º elbow, a 75 cm section and a deflector.
This heater belongs to the range of new generation Hydronext low NoX heaters manufactured to achieve greater comfort, efficiency and respect for the planet. Being thermostatic, it has 3 power modes that are adjusted degree by degree to the needs of the user, so that the heater works as efficiently as possible, allowing savings in water and gas. And by having the combustion chamber sealed, they offer greater safety and a high performance value (93%). They incorporate an electronic controller that automatically adjusts the power of the burner according to the demand of the needs of the moment. The oxygen-rich flame reduces the combustion temperature while the gas-rich flame stabilizes the oxygen-rich flame. Thanks to the changes of the new model, an improvement in efficiency is achieved, a saving in water and gas consumption that contributes to the reduction of CO2 emissions and, in addition, nitrogen oxide emissions are considerably reduced since it has low NoX technology.
This new heater complies with the new ErP regulation of 2019, a law that penalizes the installation of atmospheric heaters and conventional watertight heaters. This law aims to reduce polluting gases into the atmosphere to slow down climate change. The high emissions of NoX (nitrogen oxide) caused by the burning of fossil fuels accelerate global warming, are the cause of climatic effects such as acid rain and respiratory diseases. Unlike the old heaters, this new model emits lower levels of NoX, contributing to the care of the environment and people's health.
Features:
Without pilot flame and ignition by ionization.
Nitrogen oxide emission NoX: 56 mg / kWh.
Ease of installation.
Preselection of hot water temperature.
Thermostatic temperature control degree by degree (3 power modes).
Compatible with solar energy equipment.
Overheating protection.
Includes gas outlet kit (essential for installation) Junkers AZ228.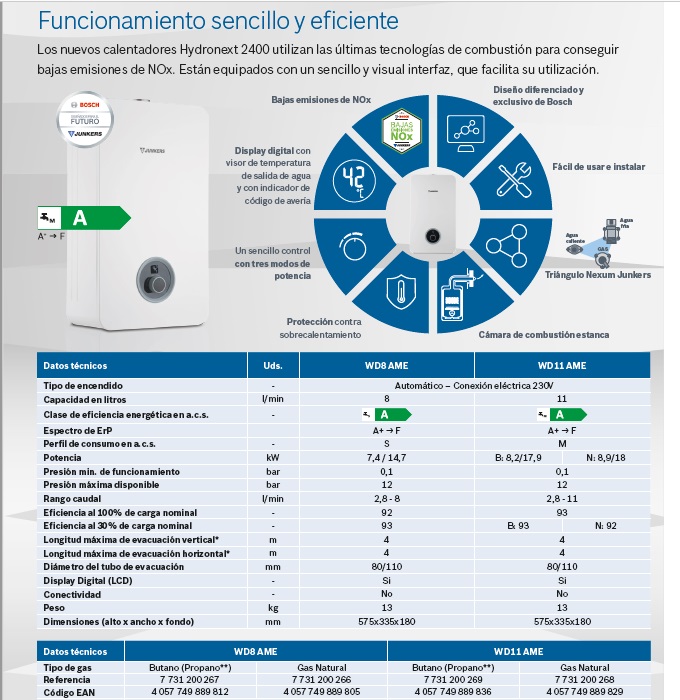 Advantage:
Ease of installation and maintenance, they keep the same cold water, hot water and gas connections.

Easy access to components.
Grade by grade thermostatic control that ensures efficiency and savings in both water and gas.
Exclusive and differentiated Bosch design.
Junkers WD11 AME, being a watertight heater, does not absorb or expel oxygen in the room where it is located, in such a way that risks to the health of the inhabitants and failures in kitchen extractor hoods or inhabitable room gas extractors are avoided .
During the combustion process, airtight gas heaters need air from the outside to function properly, for this they require a special pipe for oxygen absorption and gas evacuation. Unlike natural draft heaters, watertight chamber heaters guarantee greater safety since the chamber is hermetically closed and prevents the expulsion of fumes in the room where they are installed.
performance
Load profile
M
Technical characteristics
Absorbed power
8,2 / 17,9 kW
Energy classification
Class A
Heater type
Natural gas heater or watertight butane low NoX
Benefits
Kit de instalación
It includes the gas evacuation kit necessary for its installation. Composed of a 90º elbow, a 75 cm section and a deflector
Low NOx emissions
Contributing to the care of the environment and people's health
Temperature control
Thermostatic temperature control degree by degree (3 power modes)
Weight
Weight
13 Kg
Measurements
Dimensions
Height 575 mm Width 335 mm Depth 180 mm