Junkers 12L butane gas water heater Hydronext 5600 S
Low NOx Hydronext 5600 S Junkers Butane Gas Heater
The degree by degree thermostatic control of the temperature allows you to select the desired temperature so that the heater works as efficiently as possible, allowing you to save every time we open the tap and have the best feeling of comfort.
Low NOx emissions
Easy to use and install as it maintains the same hydraulic connection as all Junkers gas heaters
Intuitive and digital display with touch control
Differentiated and exclusive Bosch design
Thermostatic temperature control
"Rich-Lean" Burner Technology:
Junkers-Bosch watertight heaters achieve the lowest low NOx emissions according to ErP, using "Rich-Lean" burner technology. The low combustion temperature in the burner enables it to meet the requirements for low NOx emissions.
The thermostatic temperature control allows the heater to work as efficiently as possible, so that we manage to save every time we turn on the tap without losing the feeling of comfort.
The Junkers-Bosch range of low NOx heaters adapts to any need due to its ease of installation, maintaining the usual Junkers triangular connections (Nexum Junkers Triangle). This triangle connection allows us the optimal position of the connections for the easy replacement of old Junkers heaters with the new Junkers watertight Hydronext heaters.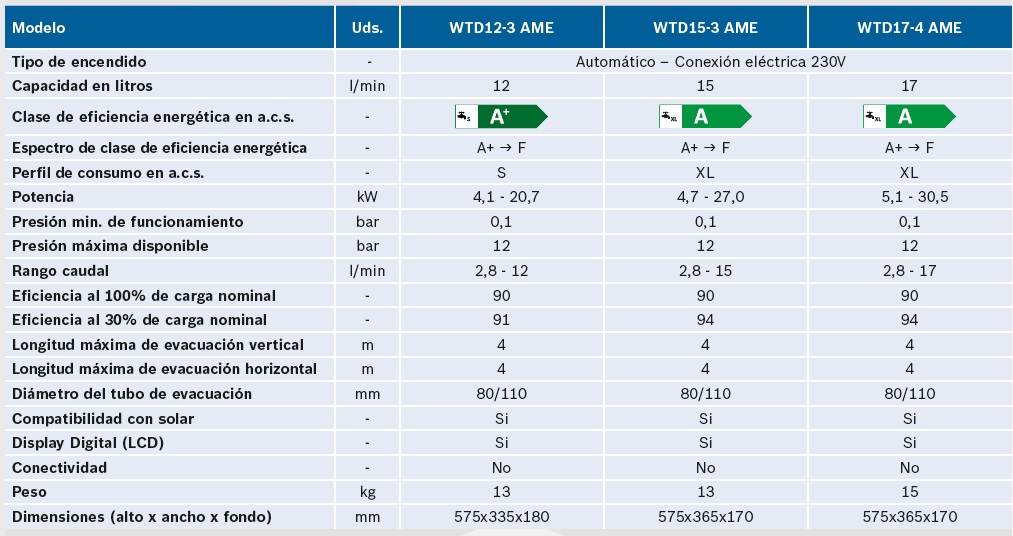 performance
Energy efficiency
71 %
Load profile
M
Technical characteristics
Absorbed power
Electric power consumption max. 39 W
Energy classification
Class A
Heater type
Gas: Butane
Benefits
Kit de instalación
Included with heater
Low NOx emissions
It is achieved with a low combustion temperature in the burner
Temperature control
Thermostatic temperature control for greater savings
Weight
Weight
12,4 Kg
Measurements
Dimensions
Height 575 mm Width 335 mm Depth 180 mm