Vortex 305 electric pool cleaner
Vortex 305
ZODIAC ELECTRIC WALL AND POOL CLEANER FOR ALL KINDS OF MEDIUM POOLS UP TO 12X6M

The ultimate power: Electric all-terrain cleaner with super powerful and constant suction.

Ultra-powerful and constant cyclonic suction: Zodiac® engineers created the first cyclonic vacuum cleaners on the market. Cyclonic suction technology consists of creating a high-powered vortex inside the filter, which keeps dirt in suspension, preventing it from sticking to the filter walls and becoming clogged, thus maintaining cleaning performance.
Ease of access and cleaning of the filter: To make things easier for you, the filter is accessible from the top of the cleaner and is very easy to clean, avoiding contact with debris.
Extra large suction capacity:
The Vortex 305 pool cleaner guarantees perfect cleaning on a large scale. Thanks to its extra wide suction mouth and its filter with a capacity of 5 liters, the cleaner can suck up and store all types of waste with maximum comfort of use. In addition, it maintains the suction power throughout the cycle.
Accessories included: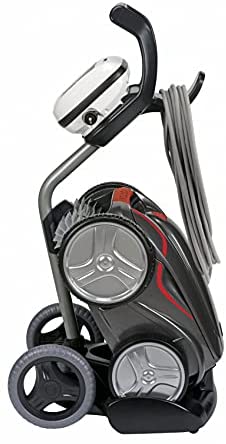 Large capacity filter (5L) easy to clean
Front wheel cover for tile pools

Control unit
Transport car
Kinetic remote control

Optional gadgets:

Very fine residue filter
Fine debris filter

Coarse debris filter
Protection cover
DATA SHEET:
Reference:

WR000276




Rectangular, oval shapes, free shapes

Diamond tip compatible: No

Safety step compatible: Yes

Cyclonic suction: Yes

Cleaning coverage: 24.5 cm

Filter capacity: 5 L

Swivel (anti-tangle twist): No

Wall and water line management by pressure sensor: No

Cycle only bottom: Yes

Water line only cycle: No

Smart pool adaptation: No

Localized cleaning «Spot Clean»: No

Manual cleaning time setting: Yes

Control via iAquaLink: No

Programmable 7 days: No

Water temperature measurement: No

Weight: 9.5 kg

Lift System (assisted water outlet): No

Filter Type: Rigid / Top Access

Filter full indicator: No

Dirt display through transparent cover: No
Pool size (max.): 12 x 6 m

Cladding: All types of cladding

Traction system: Tracks

Cleaning areas: Bottom / Walls / Water line

Filtration level: Fine 100µ

Cable length: 18 m

Remote control: Yes

Number of cycles: 6

Transport trolley: Yes

2 year warranty
TECHNICAL CHARACTERISTICS:

Number of engines: 3

Dimensions of the pool cleaner (W x L x H) : 43 x 48 x 27 cm

Cleaner weight : 9.5 kg

Cleaning cycles: 6 cycles: - «Deep Clean» fund: 1h, 1h30min, 2h - Bottom / walls / water line: 2h, 2h30min, 3h

Filtering surface /Filtration level : 1180 cm2 / 100 microns

Coverage of Cleaning: 24.5 cm

Cable length: 18 m

Traction system: 2 wheel drive

Transmission : Gears

Safety: Beach system, stop automatic out of the water, electronic protection of engines
TYPE OF POOL:

PRIVATE IN-GROUND POOLS

OR OFF THE GROUND WITH WALLS

RIGID

ALL KINDS OF SHAPES

ALL KINDS OF FUNDS

(EXCEPT SAFETY EDGES)

ALL COATINGS

FOR POOLS UP TO 12X6M

CLEANING OF THE BACKGROUND, WALLS

AND WATER LINE




performance
Filter type
Rigid filter with access through the top of the cleaner
Filtering surface / Filtration level
1180 cm2 / 100 microns
Filtration level
100 micron
Traction system
Caterpillars
Transmission
Gears
Operating System
Electric
Technical characteristics
Number of motors
3
Benefits
Remote control
Yes, remote control
Security
Beach system, automatic stop out of the water, electronic motor protection
Control unit
YES
Transport Car
included
Cleaning
Cleaning area
Bottom / Walls / Water line
Cleaning cycles
6 cycles: - "Deep Clean" Fund: 1h, 1h30min, 2h - Bottom / walls / water line: 2h, 2h30min, 3h
Manual adjustment cleaning time
YES
Cleaning coverage
24,5 cm
Only Bottoms
YES
Pool type
Bottoms
All types of backgrounds (except safety edges)
Coatings
All types of coatings
Safety step compatible
YES
Shapes
All kinds of shapes
Sizes (up to ...)
12 x 6 m.
Type
Inground and off-ground pools with rigid walls
Warranty
2 Years
Weight
Weight
Cleaner weight 9.5 kgs
Measurements
Cable length
18 m
Filter capacity
5 L
Dimensions
48.00cm x 43.00cm x 27.00cm
Processor
Cyclonic Aspiration
YES