Zodiac MX8 Pool Cleaners
Zodiac MX8 Pool Cleaners
ZODIAC POOL AND WALL CLEANER FOR ALL KINDS OF MEDIUM POOLS UP TO 12X6M HYDRAULIC WITH HOSE.

The Zodiac MX8 Hydraulic Pool Cleaner is suitable for all types of pools and liners. It has the modern X-drive navigation system that perfectly cleans all areas of the pool, with turbo suction consisting of two suction propellers and a powerful suction turbine, belt displacement system for perfect stability and adherence and also Twist Lock hoses with secure connection without loss of suction. All of this makes it the consumer's favorite pool cleaner for value for money.
Methodical cleaning
The MX8 efficiently cleans all areas of the pool with the help of the integrated X-Drive system. This navigation system guarantees a total coverage of the pool, regardless of the bottom or the shape of it.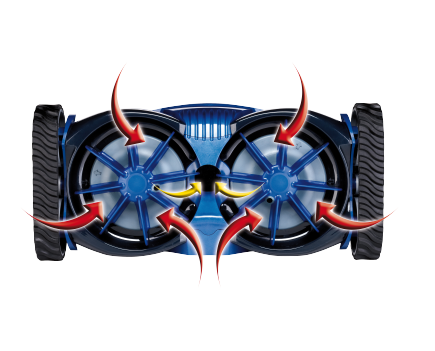 Turbo suction
A powerful turbine with two suction propellers guarantees ten times more efficient suction.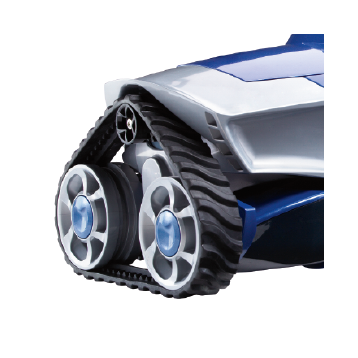 Belt displacement system
The straps ensure perfect stability and mobility in all pools regardless of their lining.
TYPE OF POOLS

Private inground and above ground pools with rigid walls up to 12x6m.
With rectangular, oval and free shapes.
With flat bottoms, gentle slope and compound slope.
Tile coatings, liner, polyester shell, reinforced PVC, painted concrete.
GENERALITIES
Cleaning areas: Bottom and walls.

Cleaning cycles: A filtration of 6h in 3 cycles of 2h is recommended.

Power source: Pool filtration equipment.

Scrolling: Random.

Operating system: suction turbine and 2 suction propellers.

Installation: By the user in the pool cleaner outlet or in the skimmer.

Type of aspirated waste: Fine and medium.
TECHNICAL CHARACTERISTICS
Hose length: 12 sections of 1 m.

Cleaner dimensions: 41 cm long X 19 cm wide X 22 cm high.

Packaging dimensions: 102 cm long X 23 cm wide X 37 cm high.

Cleaner weight (head): 3.2 kg.

Weight with packaging: 9.5 kg.

Filtration capacity: Pool filtration circuit.

Cleaning coverage: 36 cm.

Minimum required power of the filtration pump: 3/4 CV (1 CV for tile or tile pools).

Travel speed: 8 m / min.

2 years warranty.
Accessories included:
- Twist Lock hoses.

- Conical adapter.

- 45 ° elongation.

- 45 ° elbow.

- Automatic flow regulator.

- Automatic flow regulation valve (skimmer).

Optional gadgets:
- Set of 6 tubes of 1m Twist Lock.
performance
Displacement speed
8 m/min.
Operating System
Suction turbine and 2 suction propellers
Technical characteristics
Minimum required power of the filter pump
3/4 HP
Benefits
Suction propeller
2
Cleaning
Bottoms and Walls
YES
Cleaning coverage
36 cm
Pool type
Bottoms
Flat / Smooth Slope Composite Slope
Coatings
Tile, liner, polyester hull, reinforced PVC, painted concrete
Shapes
Rectangular / Oval Free shapes
Sizes (up to ...)
12 x 6 m
Type
Inground and off-ground pools with rigid walls
Warranty
Warranty
2 Years