Opalia F-14 gas heater low Nox
Low NOx sealed gas water heater Opalia F-14
The new generation of watertight heaters from Saunier Duval, with low NOx emissions, is the best answer when it comes to replacing old atmospheric appliances. The Opalia are characterized by different aspects:
Watertight, the safest
They eliminate the risk of smoke inhalation thanks to the airtight combustion chamber that allows the air to be taken from outside and ensures the evacuation of gases from the burner.
Savings
They modulate their power according to the temperature of the water at the outlet, ensuring continuous stability in DHW and using the precise amount of gas. They are automatic, without a pilot flame and do not consume any gas during standby mode.
Comfort
Its operation is like the usual heaters: simple and intuitive. They do not require a grille on the wall of the house so that outside air (hot or cold) is not mixed with the environment of the house.
Quick and easy installation
The installation of the new Opalia low NOx is very comfortable, thanks to the accessories included in its packaging: hoses and shut-off valve for water, fittings with gaskets for the gas connection.
Its proven components bring exceptional simplicity to this model, resulting in reliable operation without interruptions or surprises.
Water cooled burner
With the new combustion technology they reduce NOx emissions, avoiding damage to the environment.
TECHNICAL DATA:
Efficiency class / DHW profile: A / L
Comfort provision: Thermostatic in DHW outlet
Ignition type: Electronic without pilot
Specific flow (Dt = 25ºC): 14 L / min
Dimensions (mm): 627 x 348 x 240
Gas: Natural / Butane - Propane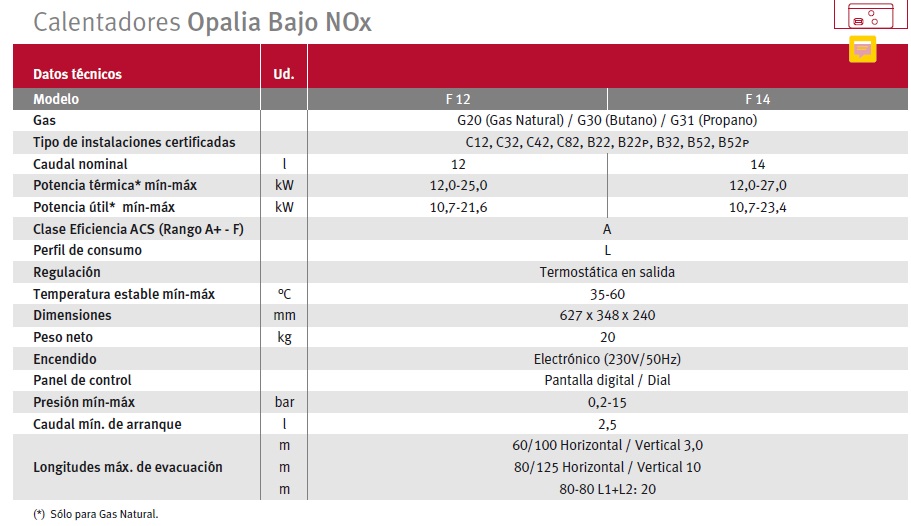 Technical characteristics
Energy classification
Class A
Heater type
Gas: Natural / Butane - Propane
Benefits
Comfort provision
Thermostatic in DHW outlet
Style
Ignition type
Electronic without pilot
Technical
Flow
Specific flow (Dt = 25ºC): 14 L / min
Measurements
Dimensions
627 x 348 x 240