Vaillant TurboMag Pro Natural Gas / Butane Heater
Vaillant TurboMag Pro Low NoX Natural Gas / Butane Heater


On / off switch, DHW temperature selector, digital display. 
According to the Regulation of Thermal Installations in Buildings (RITE) in the Spanish territory the installation of atmospheric gas heaters is prohibited, even in substitution of old appliances.
TurboMAG pro is the ideal replacement for atmospheric devices.


Why choose a Vaillant waterproof heater when replacing an old atmospheric appliance?


Complies with regulations Atmospheric devices can no longer be installed.
Much safer Zero risk of smoke inhalation thanks to the sealed combustion chamber.
Save more Modulating regulation according to the water temperature at the DHW outlet ensures optimum consumption and perfect thermal stability.
Without pilot flame It consumes NOTHING of gas in standby state.
Greener With innovative combustion technology that reduces NoX emissions, taking care of our environment.
No grille on the wall No outside air (hot or cold) enters your home.
Vaillant Warranty Unique Official Technical Service with exceptional coverage.
Simple handling.
The new turboMAG pro is a robust and reliable gas heater that offers maximum safety and optimum comfort to all users. Its installation is simple and is carried out as quickly as possible thanks to the additional components supplied such as the hoses, the shut-off valve and accessories for the gas connection. The wide range of evacuation accessories ensures adaptation to most homes.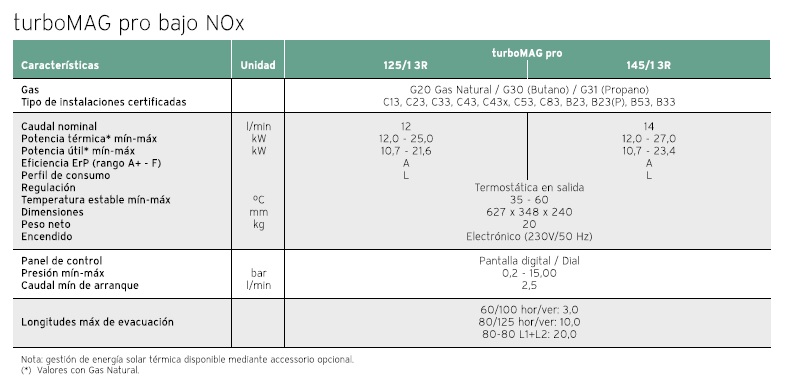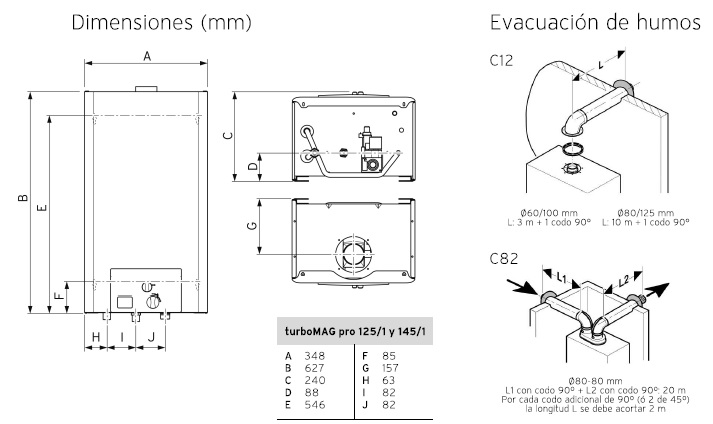 performance
Load profile
L
Technical characteristics
Absorbed power
Thermal power 12-25 kW Useful power 10.7-21.6 kW
Energy classification
Class A+
Heater type
Natural gas or butane
Benefits
Low NOx emissions
Complies with the new RITE regulations
Weight
Weight
20 Kg
Measurements
Dimensions
Height 627 mm Width 348 mm Depth 240 mm